METRO is pleased to announce that our inaugural cohort of fellows has been selected and will begin work on their projects this fall. Each project will examine and seek creative solutions to real-world challenges, bridge diverse institutions, and rethink traditional library and archival practices. Our three fellows were selected from a competitive pool of outstanding candidates. We are thrilled to bring their exceptional talent to the METRO membership community.
KATHERINE MARTINEZ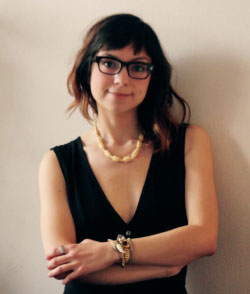 Katherine Martinez is a recent graduate, achieving a Master's degree in library and information science from the School of Information at Pratt Institute. In addition to coursework dedicated to digital archives, during the 2015­16 academic year, Katherine completed a fellowship at the Solomon R. Guggenheim Library and Archives (SRGM) where she reviewed the library's electronic records workflow by isolating a group of high value, born-­digital records; in this case, institutional records created by curatorial staff. The application of digital forensics, file format migration, and implementation of ArchivesSpace, enabled comprehensive experience with born- digital archiving. Prior to her work at SRGM, Katherine worked as a database associate at Pratt's Institutional Advancement office maintaining digital records for Development Operations through advanced query building and data management. Before joining METRO this fall, Katherine will complete her position as Archives Assistant at The Frick Collection for the duration of a digitization project which will make publicly available for the first time, the extensive art purchasing files of Henry Clay Frick, courtesy of the Carnegie Corporation.
Project
Katherine's research over the next year will focus on archival workflows and tools related to born-­digital record management. Katherine believes human organizational behavior can be studied to strengthen the relationship between archivists and media creators. By performing a critical review of institutional records output by staff at cultural heritage sites, including email, it will be possible to obtain insight as to how electronic records of lasting value might be more efficiently transferred to the archives.
KAREN LI-LUN HWANG

Karen Li­-Lun Hwang received her MSLIS from the Pratt Institute School of Information in 2016, focusing her studies on the implementation of linked open data to cultural heritage materials as part of the research team Linked Jazz. She has worked both as an archivist and as a cultural producer with local cultural organizations throughout New York City, including the Asian American Arts Centre and Interference Archive, as well as a data specialist for scientific research on renewable energy at Brooklyn College. Karen is interested in exploring ways of leveraging technology to promote the unique resources and local histories found in community archives. During her studies, Karen worked as a METRO Innovative Intern with NYPL Labs as part of their early phase to establish a Linked Open Data Registry for the library's research collections and was a 2014­2015 American Library Association Spectrum Scholar.
Project
As a METRO inaugural fellow, Karen Li­-Lun Hwang will apply her work with linked data to benefit member institutions within the METRO network. Her research will include a survey of linked data use cases and the evaluation of digital archive platforms to determine strategies for connecting resources between METRO institutions with linked open data. She will work collaboratively with other METRO services, such as DCMNY, to ensure integration of her research with existing METRO programs.
MOLLY SCHWARTZ

Molly Schwartz is a PhD candidate in Media and Communications at the University of Malmö. Her research focuses on the power of media to defamiliarize us from our everyday surroundings in a way that creates deeper moments of understanding, which she is exploring through materials ranging from science-­fiction literature to ASMR YouTube videos. She is a published writer in areas of public access to information, the social implications of information management, and current issues in technology policy. Molly has a background working on digital accessibility and usability in libraries, participating in the National Digital Stewardship Residency in Washington, D.C., where she created a Digital Accessibility Toolkit for the Association of Research Libraries. She first moved to Finland for a Fulbright grant project with the National Library of Finland, where she fell in love with the sauna and got inspired to do a PhD in a neighboring Nordic country. She is a proud CryptoParty organizer and member of Open Knowledge Finland. Molly holds Bachelors and Masters degrees in History from Johns Hopkins University and a Masters in Library Science from the University of Maryland, College Park.
Project
Molly will be building a cozy and inclusive Mindful Media Studio where the METRO library community can gather and experiment with storytelling techniques across different media. The lab will be equipped with the necessary technologies to produce advanced interactive and multisensory media, while still incorporating the fundamental importance of print media and focusing on mindful media production. The Mindful Media Studio will be a space for hosting workshops, events, experiments, and gatherings that push and play with the transformational power of stories.